Bob Ross CRI®
Find freedom on this canvas. Believe that you can do it, 'Cuz you can do it.
A CRI, certified Ross instructor, is an art teacher trained in Bob Ross's own instructional method in landscape painting, as seen on the Netflix shows "Chill with Bob Ross" and "Bob Ross Beauty is Everywhere" - compilations of lessons from his original PBS TV series "The Joy of Painting" which ran for 31 seasons and over 400 episodes!

CRI's are the only instructors authorised and certified by Bob Ross Inc to teach his method. Over an intensive three weeks at the Bob Ross Workshop and Gallery in New Smyrna Beach, Florida, instructors are trained in all of the techniques and the proper use of Bob Ross products and can teach any of the paintings shown on the series. Using positive reinforcement as a teaching method, CRI's enable an achievable mastery of each step, as well as a joyful class atmosphere - "We don't make mistakes, we just have happy accidents".
Classic Bob Ross Paintings
A different Bob Ross landscape each time - Mountains, Seascapes, Forests & Waterfalls
Use Authentic Bob Ross Materials
Official Bob Ross paints and tools provided, essential for an authentic experience
Yours to Take Home
At the end of the workshop you'll have your own finished Bob Ross style painting, ready to take home and frame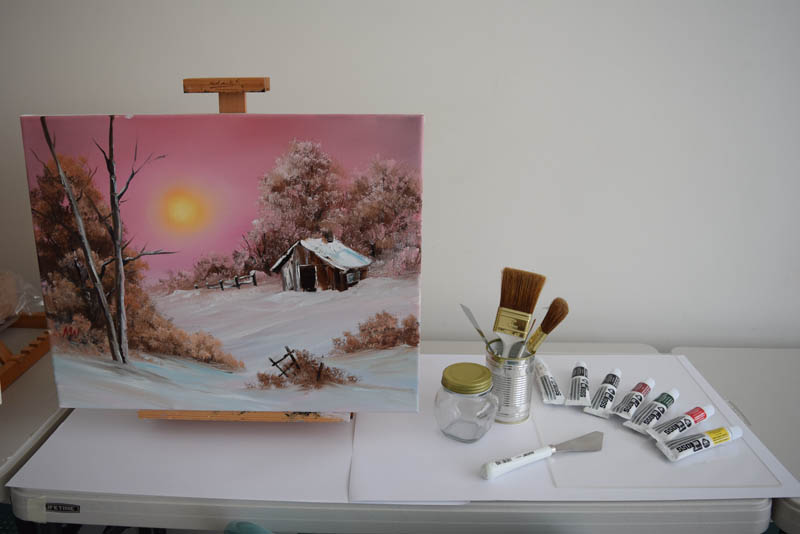 Bob Ross Landscape Workshops
When you join a Bob Ross workshop, the classroom is set up with all that you need for your lesson and you don't need to bring anything other than your happy self. Use high quality materials and tools, chosen specifically to work well with Bob's method. Your instructor will explain everything you need to know about using the products and about the painting that you will be working on - almighty mountains, a seascape, a forest or waterfall scene, and maybe one of Bob's iconic cabins.
Follow along with each step of the painting as it's demonstrated before you, leading you from a blank canvas to a finished painting by the end of your lesson, ready to take home and frame.
Booking a Workshop
Brisbane Studio
Bob Ross workshops run for 6 hours, usually on the 1st Saturday of each month. Hit 'book now' to check current availability. Classes are for up to 9 people and are appropriate for any experience level - Even if you've never painted before. See below for a preview of which paintings will be covered in upcoming months.
Book Today
Ideal for small groups or individuals, all classes are laid back and fun - No prior painting experience is required. Bring your friends along and discover the joy of painting in Bob Ross's original method. Official Bob Ross materials are supplied and you'll get your very own finished painting to take home.
Give me a call or send a quick email if you have any questions.
When

First Saturday: 10am - 4pm

Where

102 Longlands St
Woolloongabba, 4102
Upcoming Workshops
The following are previews for this year's workshops. Dates to be announced.
Milky Way
In the Stillness of Morning
Under Pastel Skies
Frozen Beauty in Vignette
Peaceful Reflections
Winter's Grace
Forest Dawn Oval
Peaks of Majesty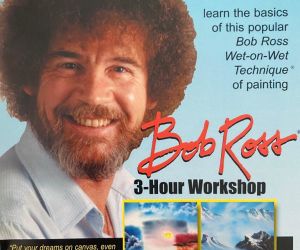 * Techniques Workshop
* There will be a special 2 day workshop adapted from on one of Bob's DVD's, teaching how to paint from your imagination using Bob's techniques